From TV production to slime star, Erin Murphy and her slimes are pure sunshine!
We spoke to this LA-based slimer about her ability to fuse her love of script writing and slime.
How has TV for you crossed-over into slime?
It's been a natural crossover. More so than I ever thought possible. Slime has allowed me to work the creative muscles I loved flexing with script writing and creating show concepts not only through the physical creation of the slime, but also through conceptualizing and executing of my videos.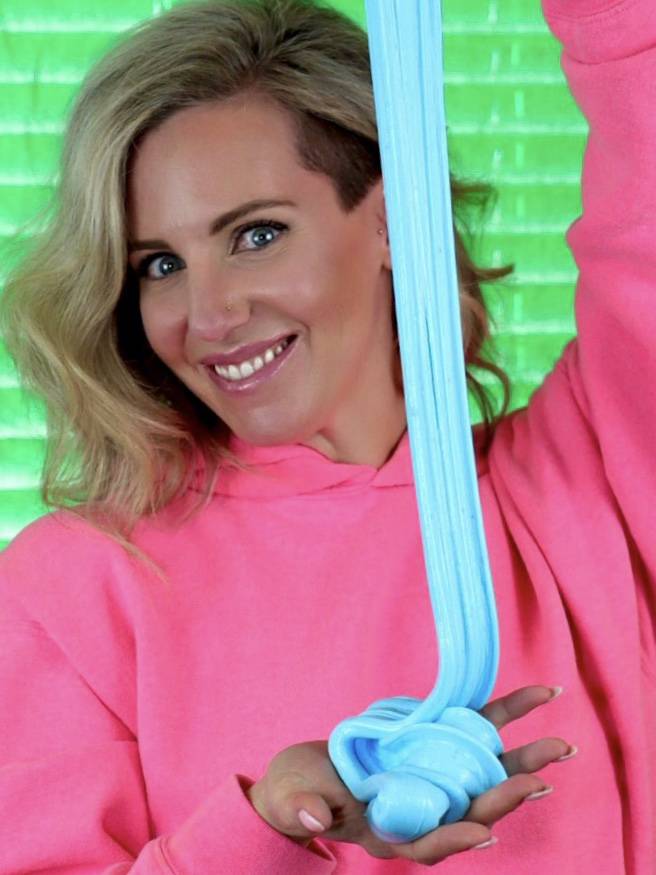 Favorite shows to binge watch right now?
Huge fan of The Handmaids Tale, Orange Is The New Black and The Chef Show on Netflix. I also love to binge The Crime Junkie Podcast when I pack orders! It's my fave!
What is your TV producer past?
I worked in nonfiction TV development for almost 15 years prior to slime! I've developed, produced and created series for networks like Animal Planet, National Geographic, A&E, PBS, The Weather Channel and more! Documentary production will always have my heart! 
What is your dream slime show?
I'd love to see a slime competition show on the air, Project Runway-style! Let's make it happen!
Who are your favorite actors right now? Have they inspired any of your slimes?
I love Marc Maron . He NAILS his character on Glow. I haven't done any Marc-inspired slimes yet! I wonder how he'd feel about that! My slimes are mostly inspired by food and my own life experiences.
How'd you get into slime?
I found Instagram slime ASMR accounts in early 2017 through an art account I follow from my personal Instagram. I'd tried making it with my kids in the past, but it was an epic fail. Once I got into the videos for my own personal relaxation, I gave slime-making another try and it took off from there.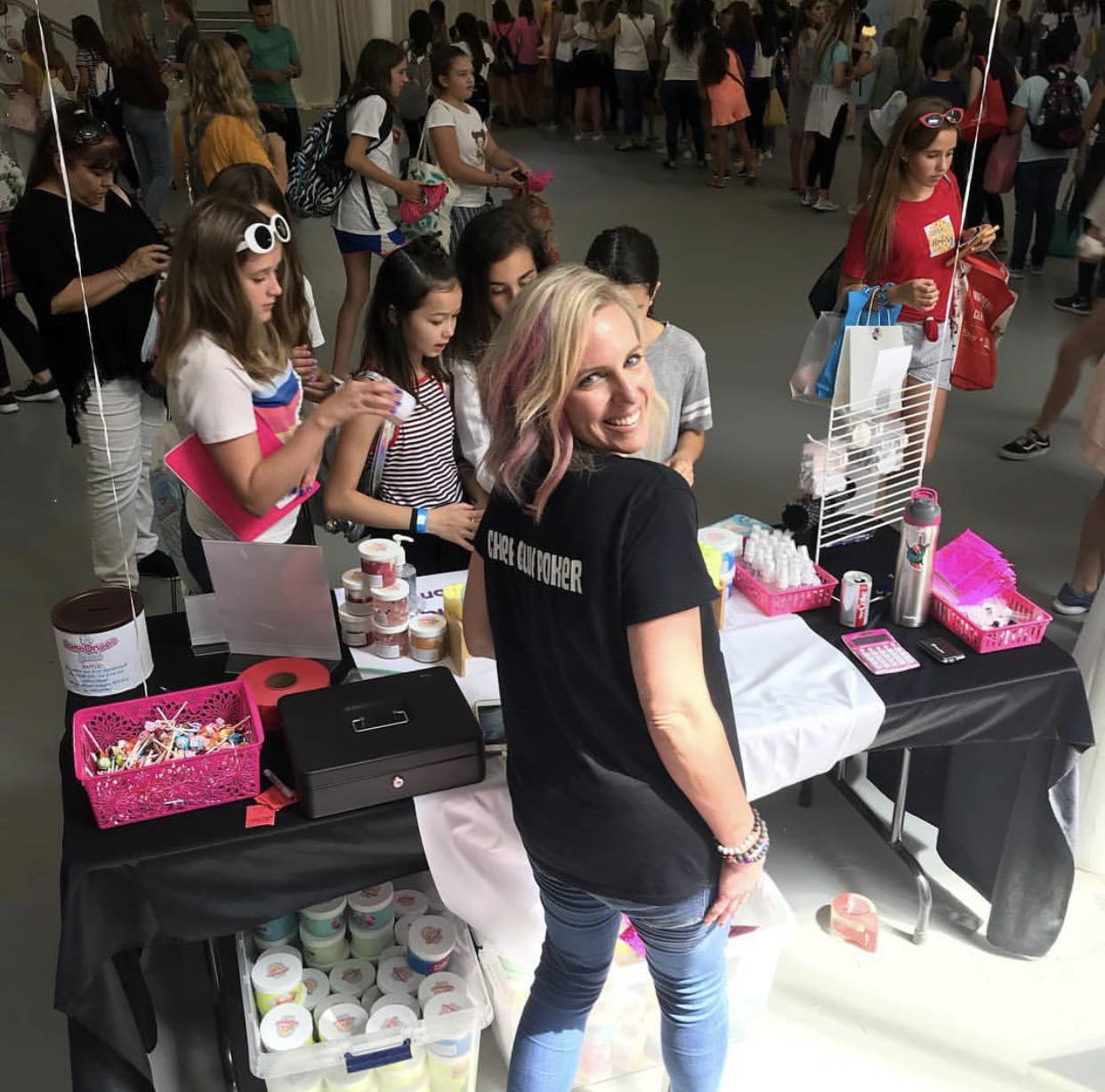 What are you known for?
People seem to know me for my Thai Iced Tea slime (a layered slime that looks just like a real Thai Iced Tea drink) and my "Prosecco" scented clear pearl slime line. I also did a live YouTube slime talk show called "Slimey Sundays" with my friend Alyssa (@CraftySlimeCreator) that a lot of people got to know me through.
What do you bring to the slime community that's different?
The most glaring difference is my age. I'm 40. I'm a mom of two. My hands are that of a 40 year old's. I make zero apologies for that and I encourage my followers to be unafraid to BE THEMSELVES. ANYONE can be a slimer; anyone can enjoy it; and I think that's part of what makes me stand out. I mix "mom figure" and "safe adult" and I think my followers appreciate that. Several of my followers --old and young-- have confided to me that they gained the courage to start a slime shop because I encouraged them to overcome the fear of being judged by others. I'm so happy I can be that person for them.
What's your favorite slime and moment or memory with it?
Pumpkin Fluff Cloud, which was a seasonal cloud slime made with a blend of real essential oils. It was antibacterial! It's my favorite because it was the slime that got me visibility and helped my shop start to grow. A large account purchased it and loved it, and my shop really took off after that. One happy, influential customer started a long line of happy customers thanks to Pumpkin Fluff Cloud.
SPILL THE SLIME: Tell us your worst slime-making disaster.
Oh gosh. One time I was making slime and my doorbell rang. Instead of turning off my mixer, I left it on. As I'm talking to the person at my door, I hear a huge CRASH and the mixer had shimmied off the table and crashed onto the floor. The mixer was dented, the floor was dented and slime was EVERYWHERE. A bottle of bread scented oil also got knocked over in the process. The house smelled like yeast for weeks! DISASTER! I would've grounded me for 6 months if I was my mom.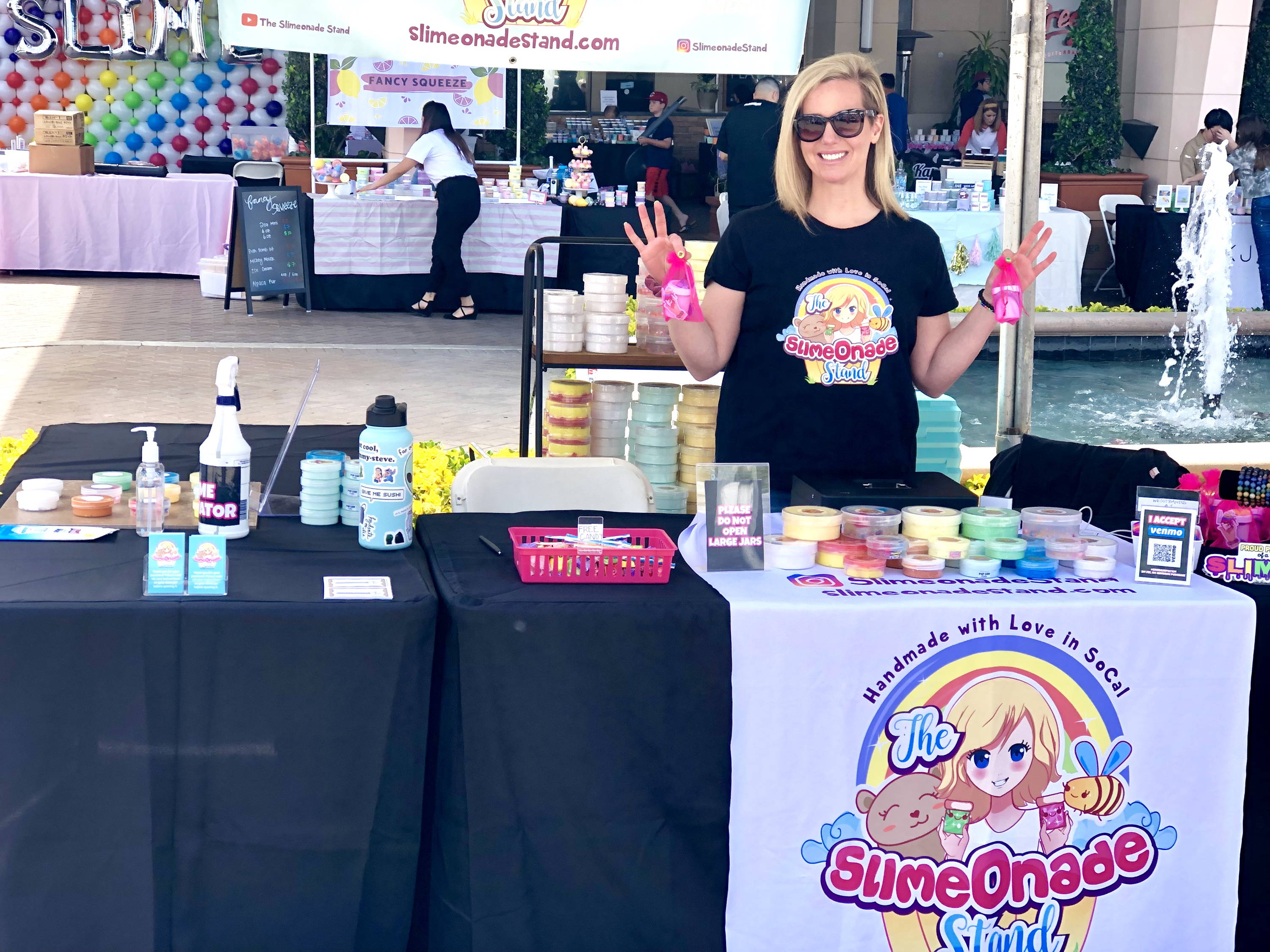 What's one thing the slime community would not know about you?
That I used to produce crime shows! I am a walking encyclopedia of true crime.
What are your future plans and goals?
I would love to continue to grow The Slimeonade Stand brand and expand it to include a physical home base (or perhaps a TRAVELING home base, like a SLIME RV?!) where customers and fans can test and play in person! My husband (Mr. Slimeonade) and I also run a media company that helps small businesses and start ups grow their visibility through curating an organic social media presence. We hope to take that to the next level as well! The ultimate life goal is to be able to work from anywhere and to be able to spend more time with our kids and dogs, traveling the world and discovering new people, things and foods!
Who do you think is an underrated slimer? 
My good friend Jennifer (@Slime.Bauble on Instagram). We met early on and both live in Los Angeles. She was the first "internet slime friend" I met in person and we became fast friends. But beyond our real life friendship, she makes insanely wonderful slimes with magnificently curated scent blends and thoughtful, clever names and themes. She takes cool risks with her products and creates beautiful art. Her videos are super satisfying eye candy and her packaging is sleek and on point.