Forget ordering pizza, it's time for food deliveries made of slime
We sat down with this NYC born-and-raised slimer to discuss ASMR, how she got into slime and how her shop became all about "food delivery" DIY clays. She was a Slimer in Residence when we opened and we're crazy for her food clay slimes.
---
How'd you get into slime?
I first encountered ASMR last January when one of my best friends showed me a Youtube video, but I was initially was more into soap cutting ASMR. However, after making some friends within the ASMR community, and meeting other content creators through engagement groups, I discovered slime and was instantly hooked! I created a second account for fun, but eventually slime became my obsession 24/7!
What are you known for?
I am most known for my "Food Delivery" concept, which initially was a special line that featured a few food inspired slimes each restock. However, it has become so popular over time that my whole shop is now comprised of slimes from this line! The Food Delivery line includes many food inspired DIY clays, which are the most popular slimes from my shop. As part of the concept, the DIY food clays are all packaged in cute paper brown bags with my special food delivery logo!
Check out this cute video to see their cute food-themed slimes:
What do you bring to the slime community that's different?
I think my cultural upbringing and living in NYC contributes a lot to my creative environment. A lot of my slimes are inspired by Asian foods or NYC sweets. I jumped on the DIY clay trend right at the beginning and incorporated these influences in my slimes, which really solidified my brand and made my shop stand out.
When did you open your shop?
I opened my shop at the end of summer in 2018.
What's your favorite slime and moment or memory with it?
Once while making my "Red Bean Bun" prototype, my boyfriend walked into my room and thought I was holding actual bread. He took a bite right out of my hand before realizing it wasn't real! He was totally fine after but it was a real hoot.
What's one thing the slime community would not know about you?
I love animals. I have four roborovski hamsters and one shiba inu. I've also been to cat cafes in 4 different countries!
What are your future plans and goals?
I hope to continue making slime while I study to get into dental school. Since dentistry is part of primary care, we have patients of all different ages and backgrounds. Some of them have anxiety as a result of poor past experiences; so, many offices provide stress balls for patients to play with during their appointment. I think it would be great to incorporate aromatherapy slimes as an alternative method to help patients feel more at ease and relaxed during their sessions.
If you were on a deserted island which slime would you take and why?
I would have to take my BBQ Sandwich slime, which is scented like BBQ. Maybe I could set a sticky trap!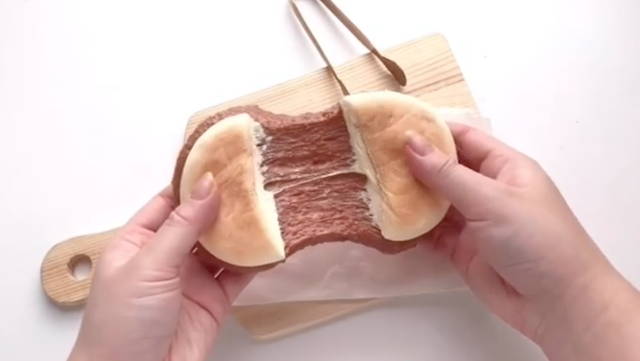 Who do you think is a slime underdog (underrated slimer)?
Debra, @portcityslime is an awesome slimer who creates her own trends and makes slimes from anything she is inspired by like characters and movies. She also has really cool labels; I'm always a sucker for unique packaging!